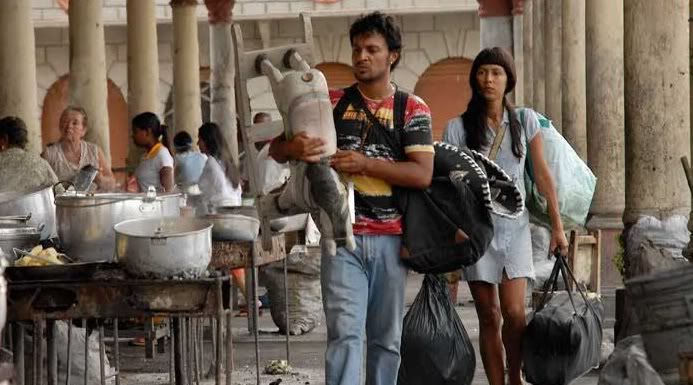 Director: Carlos Gaviria
Cast: Paola Baldión, Julián Román, Edgardo Román
Carolina Lizarazo, Ramses Ramos, Ana María Arango
Retratos en un mar de mentiras
(
an interesting wordplay between either
Portraits in a Sea of Lies
or
Portraits in a Fake Sea
)
is a road movie that travels from fantasy to fiction, trying to grasp the vast array of problems in modern day Colombia.
Marina (Baldión) is an introverted young woman who lives with her abusive grandfather (Edgardo Román) after her family was killed when she was a child. When her grandfather dies- in a freaky accident that comes off as a botched attempt at magic realism- she leaves on a trip with her cousin Jairo (Julián Román) to reclaim grandpa's inheritance in the town where she was born. Jairo is a womanizing photographer who takes Polaroids using a fake ocean view as stage (hence the film's title) and takes Marina with him only to see what he can get out of it.
As they drive towards the coastal town across the entire country they encounter situations that speak a greater truth than their own story.
One darkly funny episode has them stop in the middle of the road to wait for a battle between guerrilla and military forces to end.
As the drivers wait patiently, bullets fly over their heads threatening their lives and in the scene's oddest moment, one of the men asks Jairo to take his picture to commemorate his first ambush.
Moments like this fill the film with a sense of charm which the main plot never fulfills. Gaviria has trouble letting the story and characters grow for themselves and indulges in oversimplifying turns by practically digesting them for his audience (we don't need a flashback of Marina's family's murder but he does one in sepia and slow motion!).
There's also the sexual attraction that brews between Marina and Julián which could've been explored in much more profound ways but is left as a device to humanize one and enlighten the other.
The director forgets at all times about that richness that surrounds his story and how it tells itself without the need for pointing things out specifically.
The movie somehow becomes a remake of
La Strada
with the tough, brutish male leading the slow minded weaker female through a life changing journey (Gaviria even sets his redemption scene at a beach) but unlike Fellini's masterpiece which turned realism into poetry,
Retratos en un mar de mentiras
' attempt to be transcendent makes us want to take a different road.